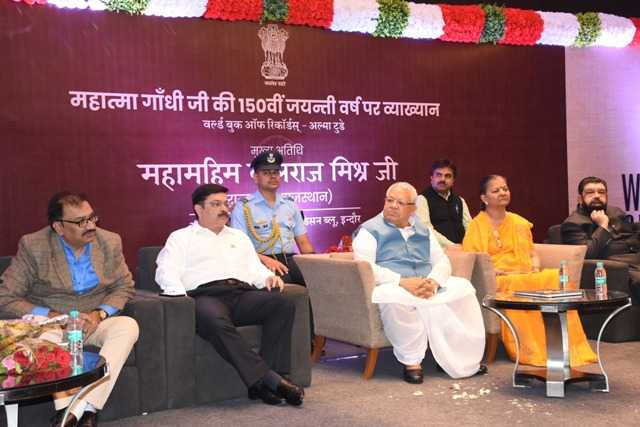 World Book of Records and ALMA organized a Vyakhan over 'Vartman Mai Mahatma Gandhi Ki Prasanggikta on Mahatma Gandhi's 150th Birth Anniversary Year
Indore : Shri Kalraj Mishra (Hon'ble Governor, Himachal Pradesh) said being chief guest of the function as our nation has witnessed Relevance of Mahatma Gandhi at Present. Te philosophy of Mahatma gandhi teaches us a lot and paved the way for national and communal integrity. Mahatma Gandhi always stressed on sensitivity and non - violence for strengthened the nation. He gave the message of economic betterment of rural India. Apart from chief guest, Shri Chandra Shekhar Raikwar (Member, Madhya Pradesh Public Service Commission), H. H. Narendra Singh (Jhabua Maharaj), Shri Varun Kapoor, IPS (ADGP), Shri Shankar Lalwan (Lok Sabha Sansad, Indore) and Prof. (Dr.) Rajeev Sharma shed light on relevance, philosophy and values of Mahatma Gandhi.
Social Activists and people of excellent performance for betterment of society were felicitated by Chief Guest - Hon'ble Shri Kalraj Mishra Jee including Shri Ravi Kalra 'Karma Yogi' Founder and President- The Earth Saviours Foundation Gurugaon (Haryana) for his matchless contribution in promoting the cause of humanity for betterment of society. He rescued thousands of abandoned senior citizens & mentally disabled people from roads. Simultaneously he criminated more than six thousand unclaimed and unidentified human dead bodies at electric crimination center since 11 years. Shri Pankaj Kumar Ohja (IRS, Upper Collector , Kota, Rajasthan) was felicitated for finalzing with department and Addition collector Kota Cour382 cases regarding 107, 116, 151, 110 sections of CrPc of IPC. .Shri Shankar Lalwani , Lok Sabha Sansad, Indore ( Namo Namo Shankra Welfare Organisation) for organizing event of Largest Portrait of Mahatma Gandhi ob the occasion of 150 th Birth Anniversary of in Indore on 02 October 2019 at N B Panjwani Higher Secondary School ,It was completed by 09 women and 01 man with time period of 18 hours nonstop .Shr Sanjay Singh (London) was felicitated for his contribution in social , cultural and promotional activities of World Book of Records while Shri Krishna Kant Mishra of Krishna Guruji Social Welfare Society was honoured for his contribution in serving humanity through performing last ritual of unknown and unclaimed gead bodies of people at Siddhawat in Ujjain.
The function was presided over by Shri Kalraj Mishra (Hon'ble Governor, Himachal Pradesh) and was conducted by Shri Santosh Shukla, Advocate (President, World Book of Records, London) and vote of thanks was given by Dr. Suchita Shukla On this occasion, Shri Vikram Trivedi, Dr. Bharat Sharma, Shri Suresh Mishra (Mumbai), Advocate Ashwin Trivedi and Divya Trivedi (Ahemdabad, Gujarat), Shri Mahendra Gupta (Dahod, Gujarat) Shri Rajesh Shukla and others welcomed the guests.