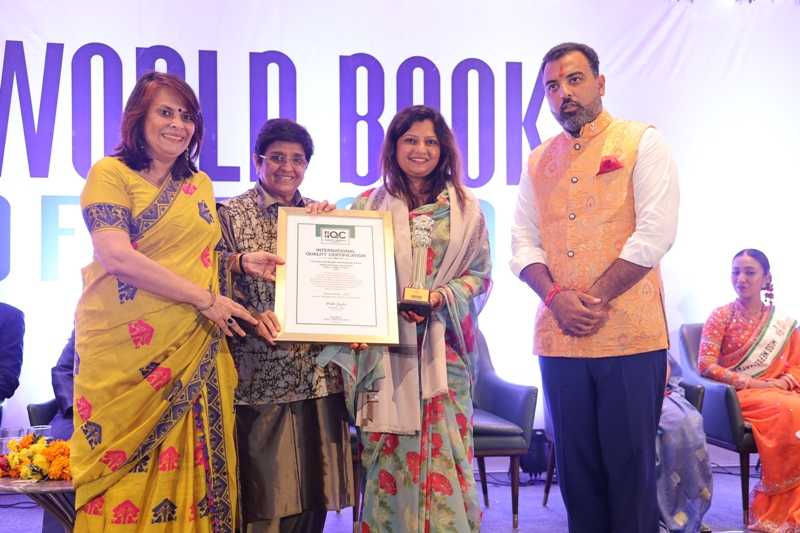 The Emerald Heights International School of Indore (Madhya Pradesh) India gets certified with iudex International Quality Certification
For providing quality services and management performance in Academic Infrastructure
Indore: The Emerald Heights International School of Indore (Madhya Pradesh) India was certified with iudex International Quality Certification (IIQC) of UK for quality services and management performance as providing Academic Infrastructure, Sports and Co-curricular, Laboratories, International English Language Testing System (IELTS), Universities and Colleges Admissions Service, Career Counselling & Guidance, Intercultural exchange of Students programs with quality to fulfill international norms.
The certificate was presented to Ms. Anamika Singh on behalf of Siddharth Singh Girnar (Director, The Emerald Heights International School, Indore) by Hon'ble guests and Mrs. Sapna Sukul (Educationist, New Delhi) at the award ceremony of the organization.
Barrister Santosh Shukla (President and CEO, World Book of Records) said that the certificate of record was bestowed at a prestigious award function at Marriott Hotel in Indore (Central India). The ceremony was graced by international personalities and other prominent guests including His Excellency, Maharaj Kumar Sahib Lakshyaraj Singh Ji Mewar of Udaipur, Rajasthan, India, Mr. Wilhelm Jezler from Zürich, Switzerland (Head of Europe for World Book of Records) and Ms. Poonam Jezler from Zürich, Switzerland (President, WBR - Switzerland), Shri Shankar Lalwani, Member of Parliament, Indore, Shri Pushyamitra Bhargav (Mayor, Indore), Shri Manu Shrivastava, IAS, Principal Secretary, Government of Madhya Pradesh, Shri Varun Kapoor, IPS, Additional Director General of Police, Maharshi Shri Uttam Swami Ji Maharaj (Spiritual Guru), Shri Narendra Singh Chauhan (Brother of Hon'ble Chief Minister of Madhya Pradesh Shri Shivraj Singh Chauhan), Princess Rani Singh of Piploda (Madhya Pradesh), Prof. (Dr.) Abhijit H. Joshi (Vice Chancellor) Pune (Maharashtra), Prof. (Dr.) Rajeev Sharma, Prominent Educationist, Dr. Sareesha Shrestha, Miss Nepal Earth 2022, Nepal, Ms. Ashima Sharma (Bollywood Actress, Mumbai) and other prominent guests. On being felicitated by the World Book of Records, Dr. Kiran Bedi has been congratulated by the prominent personalities from the international scenario.
On this occasion, Siddharth Singh Girnar (CEO) (Director) was congratulated by Mr. Wilhelm Jezler (Head of Europe), by Shri Santosh Shukla (CEO, with iudex International Quality Certification (IIQC)) and other prominent personalities of business groups congratulated. The function was attended by many national and international personalities.