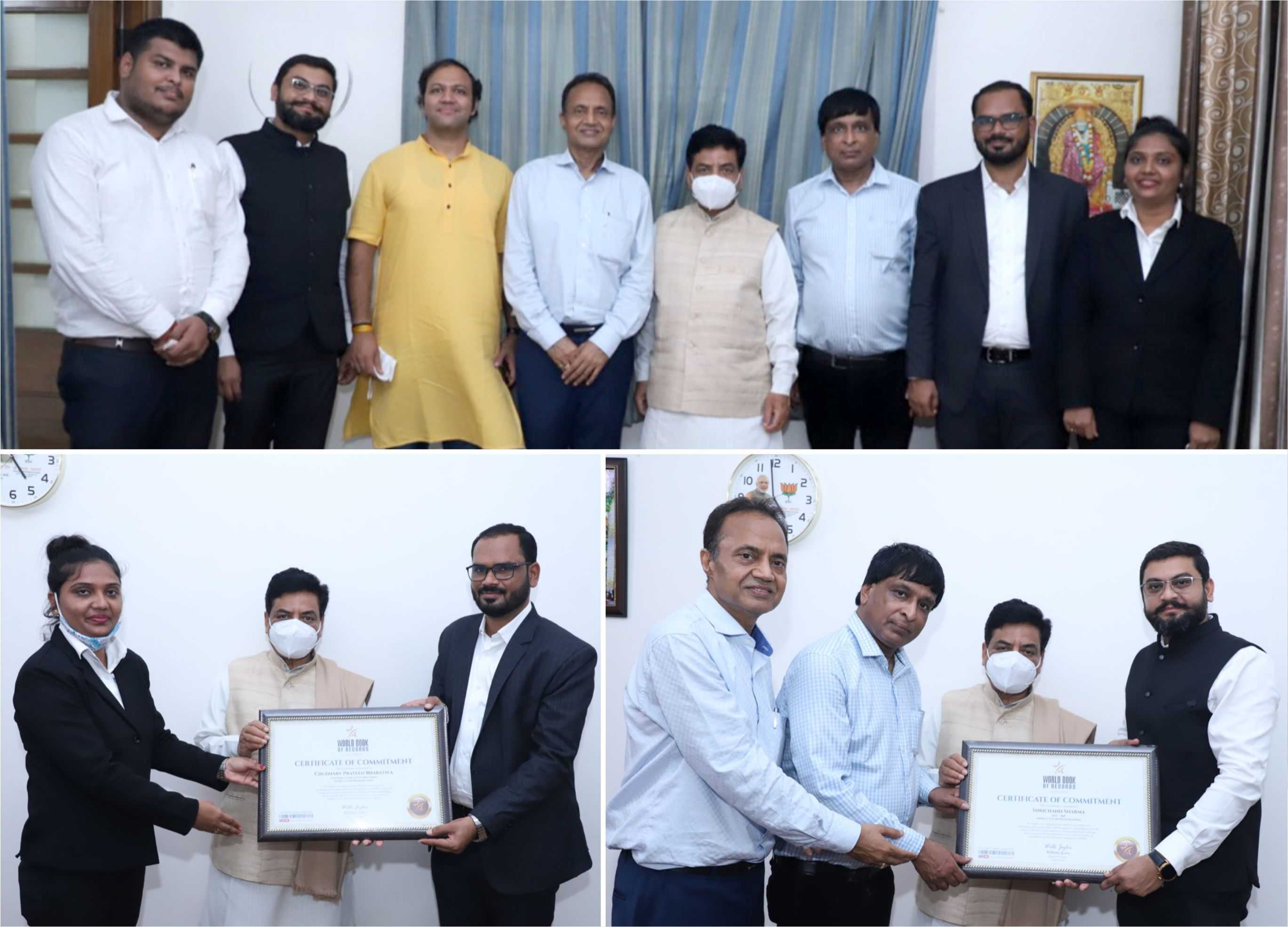 Satyanarayan Jatiya (Former Cabinet Minister, Govt. of India) bestows the Certificate of Commitment (Switzerland) to Corona Warriors for their contribution
Their dedication in serving humanity and philanthropic activities in the Coronavirus pandemic has been matchless.
NEW DELHI: Corona warriors have been honoured by Global Pledge Campaign of World Book of Records for serving humanity and dedicated activities in Coronavirus pandemic. They were felicitated with a Certificate of Commitment (Switzerland) for their matchless contribution to serve humanity. The certificate of commitment were bestowed by Shri Satyanarayan Jatiya (Former Cabinet Minister, Govt. of India and Seven Time Member of Parliament from Ujjain), Shri Rajkumar Jatiya (Youth BJP Leader), Shri Rajendra Jajoo (President, WBR - Delhi & UT's), Shri Sushil Agarwal (General Secretary, WBR - Delhi -NCR), Mr. Mehboob Saiyyad (Vice President, WBR - Maharashtra) and Shri Vivek Singh (Vice President, WBR - Uttar Pradesh) to Ms. Ruma Sayyad (Founder MD, Gram Vikas Employability Training Services Pvt. Ltd.), Shri Amar Goswami (Businessman), Shri Dattatray Lokhande (Secretary at NGO), Mr. Adam Sayyad (Editor, Times of Pune) and Mr. Sikandar Sayyad (Film Producer and Director). World Book of Records has greatly thankful and enthused about the response and appreciation for its CSR Initiative- Mass Pledge Campaign drive which has been instrumental in motivating people of all continents so that together we will win this fight against COVID-19. Under the pioneering guidance of Mr. Wilhelm Jezler from Zürich, Switzerland (Head of WBR European initiative) to motivate and inspire people with a pledge to be committed to safe and educate others to stay safe in the Covid-19 pandemic period. This global campaign of the pledge has covered people and organizations of 70 countries. WBR bestows certificates of Commitment to people and organizations for espousing the cause of humanity in the Coronavirus pandemic.