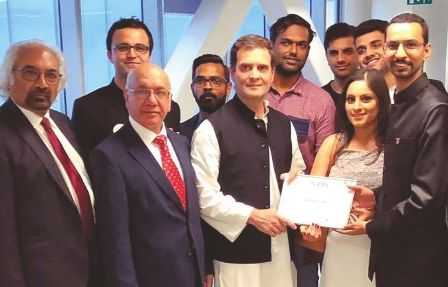 Rahul Gandhi, Virendra Sharma and Sam Pitroda felicitated students of excellence in London (UK)
LONDON : Rahul Gandhi's first official visit to the UK as Congress president has attracted a huge response from every section of the Indian diaspora community as well as students. It was organized by the Indian Overseas Congress (IOC)-UK. During his visit, he was felicitated and interacted by Shri Virendra Sharma (Member of British Parliament & Patron of World Book of Records, London), Shri Sam Pitroda (Head Overseas Congress) and other dignitaries.
Shri Gandhi also participated in an "In Conversation" event at the London School of Economics (LSE) with LSE South Asia Centre Director Mukulika Banerjee, organized by the National Indian Students and Alumni Union (NISAU) UK to launch its "Perspective India Townhall" before an audience largely made up of students and academics. "The aim of the event was to promote dynamic and unbiased discussions on issues facing contemporary India as well as the opportunities India presents," said Sanam Arora, Chair of NISAU UK.
Earlier, Shri Rahul Gandhi, who is the first foreign Leader of Opposition to be invited to speak at the Grand Committee Room of the UK Parliament, said that India and the UK are connected as they fight people on ideas. "It is rooms like this from where Britain governed India... and many Indian people are today helping run Britain. How far the world has come," he said at the event titled 'India and the World' attended by senior Opposition Labour party MPs Keith Vaz, Virendra Sharma and Seema Malhotra. On this occasion, Shri Sam Pitroda (Head Overseas Congress), Shri Mahendrasinh Jadeja, Smt. Smita Parikh and other dignitaries present. Later in the evening, the Mayor of Richmond, Councillor Ben Khosa, hosted a dinner for the Congress chief at the Old Town Hall in south-west London.