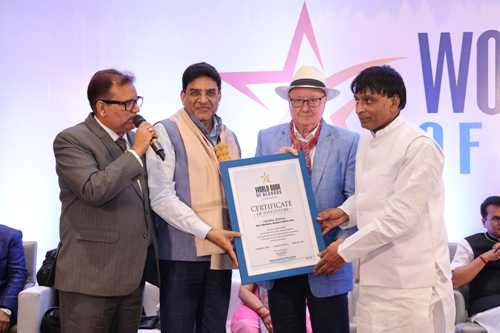 Prominent business magnate Vishnu Goyal of Indore (Madhya Pradesh) gets nominated as National Adjudicator (India) of WBR
He was congratulated on being nominated as National Adjudicator (India).
Indore: Prominent business magnate Shri Vishnu Goyal of Indore Madhya has been nominated as National Adjudicator (India) of World Book of Records UK. The certificate was presented to him by hon'ble guests at an award ceremony of the organization.
On this occasion, Mr. Wilhelm Jezler (Head of Europe ), Justice Ramesh Garg- Former Chief Justice of The Gauhati High Court (Assam, Arunachal Pradesh, Nagaland and Mizoram), Shri Rakesh K. Shukla (Diplomat, Political Thinker and Author), Shri Shyam Jaju (Ex-National Vice President, Bharatiya Janata Party), Shri Prabal Sepaha, IAS (Secretary, MPPSC), Shri Varun Kapoor, IPS (Additional Director General of Police), Pandit Pradeep Mishra (Preacher), Smt. Poonam Jezler (President, WBR – Switzerland), Shri Dinesh Jain, IAS (District Magistrate & Collector, Shajapur), Prof. Akhilesh Kumar Pandey (Vice-Chancellor, Vikram University, Ujjain, Madhya Pradesh), Shri Vikram Trivedi (High Court Advocate), Prof. Dr. Rajeev Sharma (Prominent Educationist) and other prominent guests were present.
The award ceremony was attended by 30 personalities and children from different states of India who were awarded for their contribution in world records.