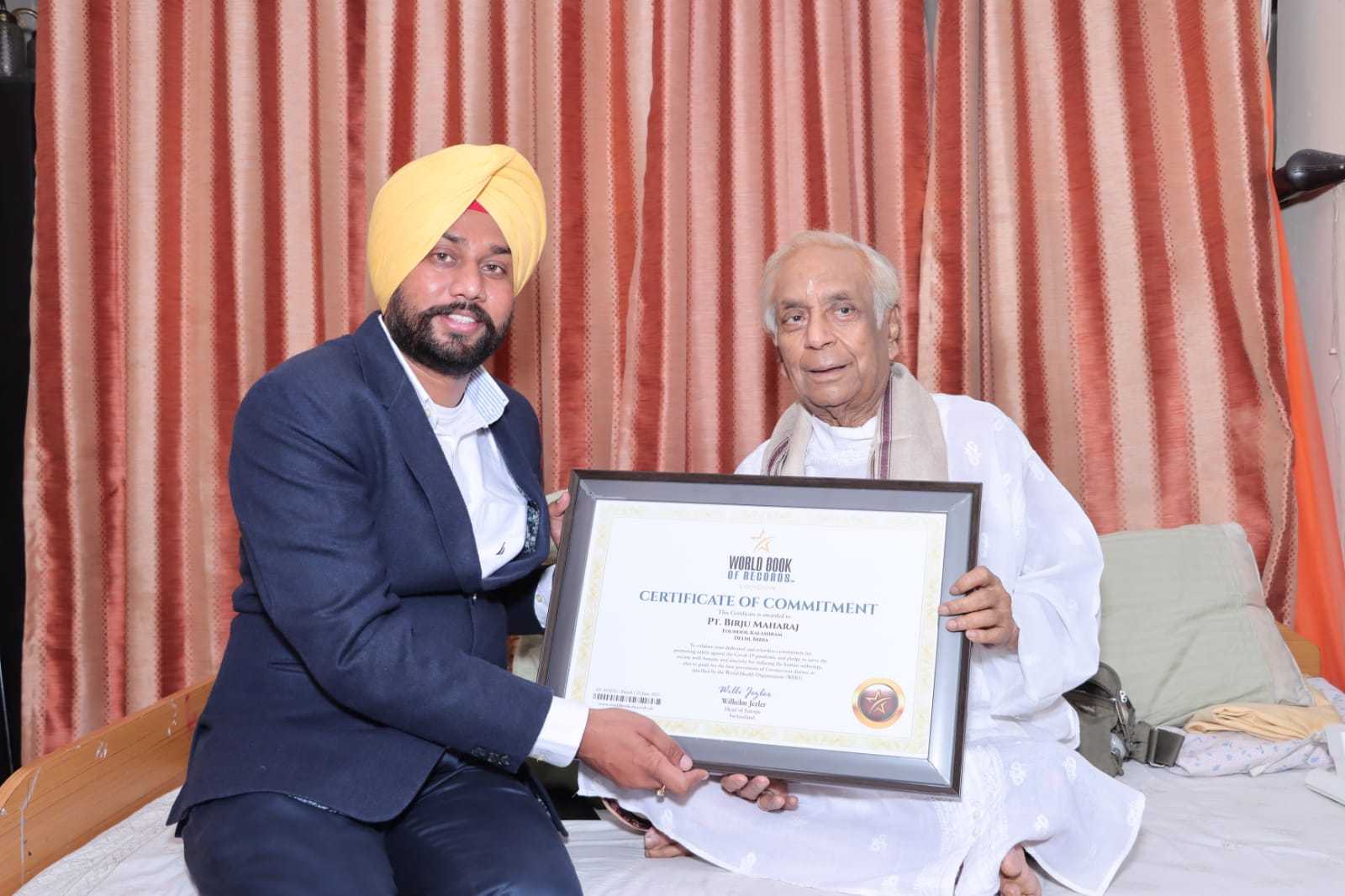 Padma Vibhushan Pt. Birju Maharaj of New Delhi (India) gets felicitated with Certificate of Commitment by Global Pledge Campaign WBR - London
His contribution in serving humanity and philanthropic activities in the Coronavirus pandemic has been matchless.
NEW DELHI: Padma Vibhushan Birju Maharaj (Founder, Kalashram) has been honoured by Global Pledge Campaign of World Book of Records, UK for serving humanity and dedicated activities in Coronavirus pandemic. He was felicitated with a Certificate of Commitment Mr. Jasvir Singh Shinda (Punjab Vice President, WBR). Significantly, Brijmohan Mishra is popularly known as Pandit Birju Maharaj, is an exponent of the Lucknow Kalka-Bindadin gharana of Kathak dance in India. He is a descendant of the Maharaj family of Kathak dancers, which includes his two uncles, Shambhu Maharaj and Lachhu Maharaj, and his father and guru, Acchan Maharaj. Even though dancing is his first love, he practices Hindustani classical music and is a vocalist. After working along with his uncle, Shambhu Maharaj at Bhartiya Kala Kendra, later the Kathak Kendra, New Delhi, he remained head of the latter, for several years. World Book of Record, London, UK has greatly thankful and enthused about the response and appreciation for its CSR Initiative - Mass Pledge Campaign drive which has been instrumental in motivating people of all continents so that together we will win this fight against COVID-19.Under the pioneering guidance of Mr. Wilhelm Jezler from Zürich, Switzerland (Head of WBR European initiative) to motivate and inspire people with a pledge to be committed to safe and educate others to stay safe in the Covid-19 pandemic period. This global campaign of the pledge has covered cover people and organizations of 70 countries. WBR bestows certificate of Commitment to people and organization for espousing the cause of humanity in Coronavirus pandemic.