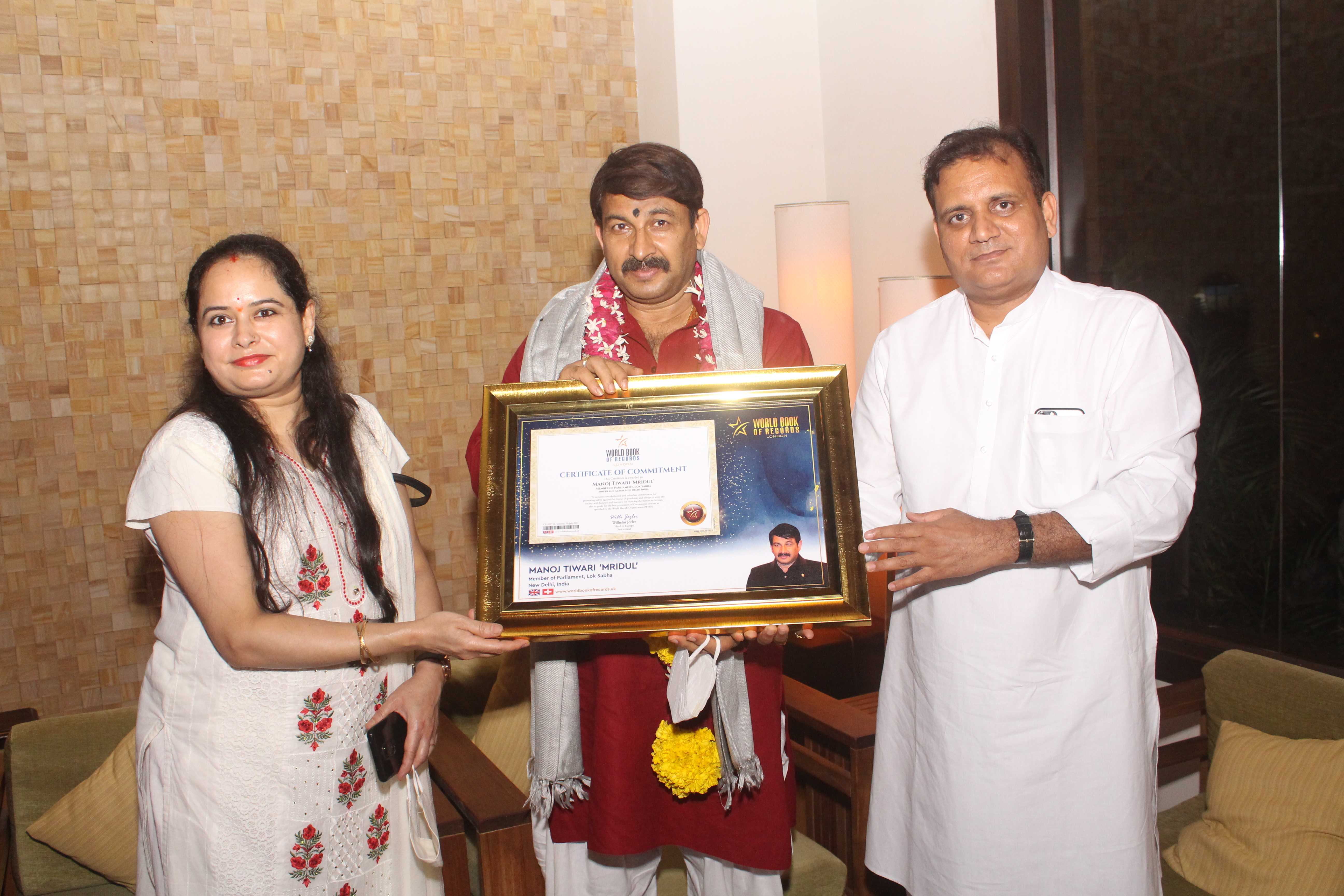 Manoj Tiwari 'Mridul', Member of Parliament, Delhi, India gets felicitated with Certificate of Commitment by Global Pledge Campaign WBR - London
His contribution in serving humanity and philanthropic activities in the Coronavirus pandemic has been matchless.
NEW DELHI: Shri Manoj Tiwari 'Mridul' Member of Parliament, Lok Sabha, New Delhi, India has been honoured by Global Pledge Campaign of World Book of Records, UK for serving humanity and dedicated activities in Coronavirus pandemic. He was felicitated with a Certificate of Commitment by Shri Santosh Shukla, Supreme Court, Advocate (President & CEO, World Book of Records) and Dr. Suchita Shukla (General Manager, ALMA). On this occasion, Shri Rajendra Jajoo were present. Significantly, Shri Manoj Tiwari is singer and actor serving as the Member of Parliament from North East Delhi. He contested 2014 Indian general elections as a Bharatiya Janata Party (BJP) candidate and won. He was appointed as Delhi BJP president in 2016. He was the head of the BJP organisation in Delhi when the party recorded a record victory in 2017 MCD elections. World Book of Records has greatly thankful and enthused about the response and appreciation for its CSR Initiative - Mass Pledge Campaign drive which has been instrumental in motivating people of all continents so that together we will win this fight against COVID-19. Under the pioneering guidance of Mr. Wilhelm Jezler from Zürich, Switzerland (Head of WBR European initiative) to motivate and inspire people with a pledge to be committed to safe and educate others to stay safe in the Covid-19 pandemic period. This global campaign of the pledge has covered people and organizations of 70 countries. WBR bestows certificates of Commitment to people and organizations for espousing the cause of humanity in Coronavirus pandemic.