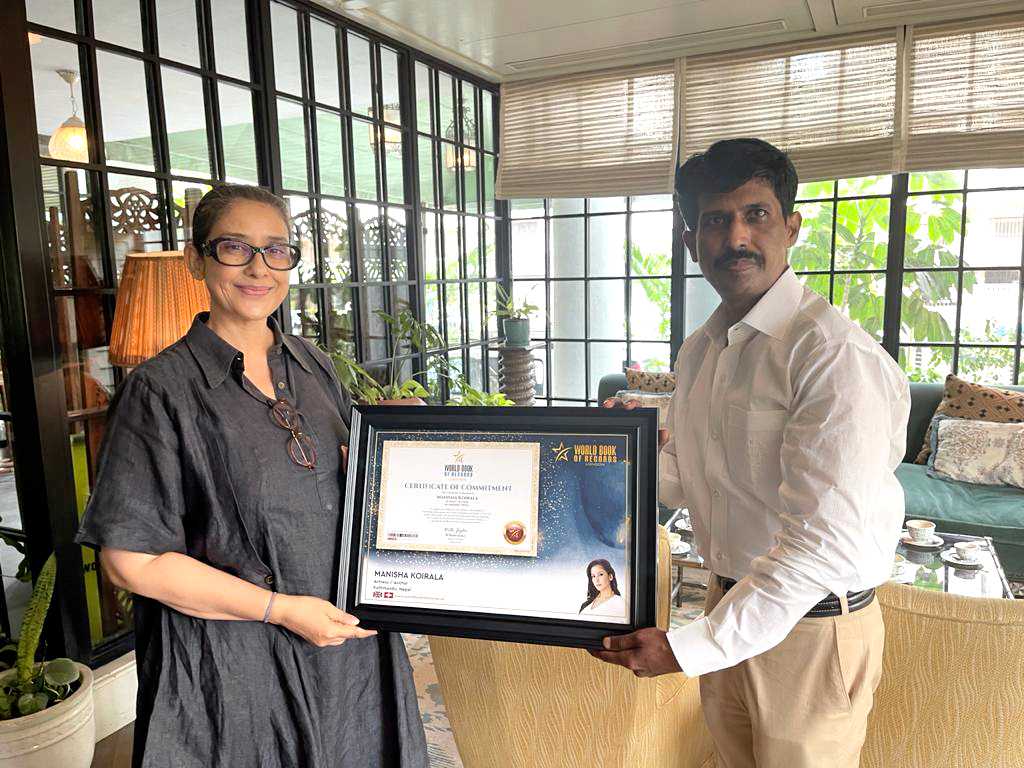 Manisha Koirala, Bollywood Actress & Author, Mumbai, India gets felicitated with Certificate of Commitment (Switzerland) by Global Pledge Campaign World Book of Records
Her contribution in serving humanity and philanthropic activities in the Coronavirus pandemic has been matchless.
MUMBAI: Ms. Manisha Koirala (Bollywood Actress and Author) from Mumbai, Maharashtra, India has been honoured by Global Pledge Campaign of World Book of Records, UK for serving humanity and dedicated activities in Coronavirus pandemic. She was felicitated with a Certificate of Commitment by Dr. Deepak Harke (National Secretary, WBR - India). Significantly, Ms. Koirala has been actively involved in social work, specifically working with organisations to promote women's rights, prevention of violence against women, and also to prevent the human trafficking of Nepali girls for prostitution. In September 1999, she was appointed as a UNFPA Goodwill Ambassador for India. She has advocated the need for an official Earth Anthem for the planet supporting the efforts of Indian poet-diplomat Abhay K in this direction. She was appointed as a UNFPA Goodwill Ambassador for Nepal in 2015 and was involved in the relief works after the Nepal earthquake 2015. World Book of Records has greatly thankful and enthused about the response and appreciation for its CSR Initiative - Mass Pledge Campaign drive which has been instrumental in motivating people of all continents so that together we will win this fight against COVID-19. Under the pioneering guidance of Mr. Wilhelm Jezler from Zürich, Switzerland (Head of WBR European initiative) to motivate and inspire people with a pledge to be committed to safe and educate others to stay safe in the Covid-19 pandemic period. This global campaign of the pledge has covered people and organizations of 70 countries. WBR bestows certificates of Commitment to people and organizations for espousing the cause of humanity in Coronavirus pandemic.