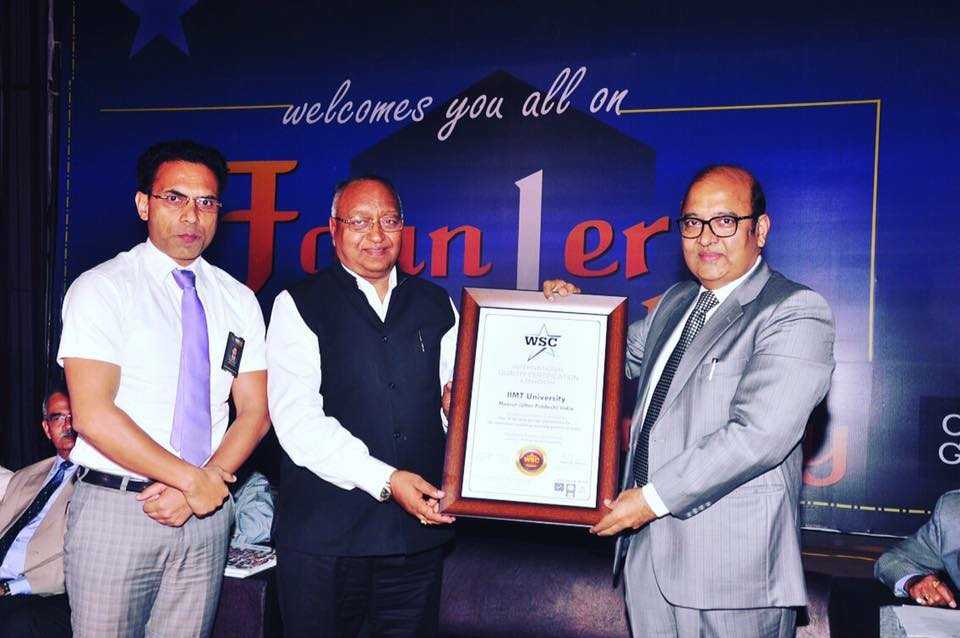 IIMT University of Meerut, Uttar Pradesh (India) gets certified with World Standardization Certification (WSC) London
Meerut : The Committee of World Standardization Certification (WSC) has certified IIMT University of Meerut, Uttar Pradesh India for having scope of activities Education and Higher Education. The organization is certified as one of the best private universities for the innovative teaching-learning process in India. The Certificate of World Standardization Certification has been bestowed to Shri Yogesh Mohan Gupta (Chancellor, IIMT University, Meerut) by Honorable Justice Shri Dilip Babasaheb Bhisale (Former Chief Justice of Allahabad High Court & Judicial Member, Lokpal) along with Shri Ravikant Sharma (Verification Head, World Book of Records).WSC has certified that the services of the organisation has been assessed and found to be in accordance with the requirements.
Significantly, IIMT University is established in 2016 by an act passed by Uttar Pradesh assembly; the University with its state-of-the-art infrastructure, experienced faculty, industry-oriented curriculum and strong Indian values is a perfect place for career change and development. It IIMT University has a cluster of Office Blocks, Classrooms and Computer Labs equipped with modern facility, Central and Departmental Libraries, Seminar & Conference Halls, Residential Accommodation for Students, Staff & Faculty, Bank facility etc. It offers programs at diploma, undergraduate, postgraduate and doctoral level in Engineering, Applied Sciences, Management, Hotel & Tourism, Pharmacy, Law and Health and Allied Sciences. In addition, the University inculcates an environment of Innovation and Research.
On being certified with WSC, Shri Yogesh Mohan Guota was congratulated by Shri Virendra Sharma (Member of Parliament, England), Dr. Diwakar Sukul (Chairman, World Book of Records, London), Shri Santosh Shukla (Advocate (President, World Book of Records) and other dignitaries from International scenario.