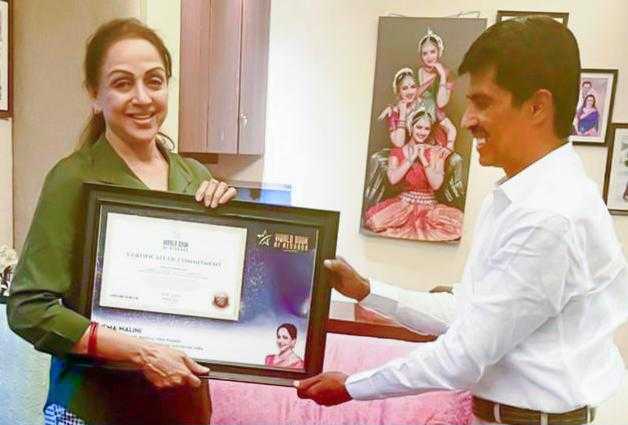 Hema Malini (Member of Parliament and Actress) gets felicitated with Certificate of Commitment by Global Pledge Campaign WBR – London.
Her contribution in serving humanity and philanthropic activities in the Coronavirus pandemic has been matchless.
MUMBAI: Smt. Hema Malini (Member of Parliament and Bollywood Actress) has been honoured by Global Pledge Campaign of World Book of Records, UK for serving humanity and dedicated activities in Coronavirus pandemic. She was felicitated with a Certificate of Commitment Dr. Dipak Harke (National Secretary, WBR - India). Significantly, in 2006, Malini received the Sopori Academy of Music And Performing Arts (SaMaPa) Vitasta award from Bhajan Sopori in Delhi for her contribution and service to Indian culture and dance. In 2013, she received the NTR National Award from the Government of Andhra Pradesh for her contribution to Indian cinema. From 2003 to 2009, Malini was elected to the Rajya Sabha, the upper House of parliament, as a representative of the Bharatiya Janata Party. In 2014, Malini was elected to the Lok Sabha. Malini has been involved with charitable and social ventures. World Book of Record, London, UK has greatly thankful and enthused about the response and appreciation for its CSR Initiative - Mass Pledge Campaign drive which has been instrumental in motivating people of all continents so that together we will win this fight against COVID-19. Under the pioneering guidance of Mr. Wilhelm Jezler from Zürich, Switzerland (Head of WBR European initiative) to motivate and inspire people with a pledge to be committed to safe and educate others to stay safe in the Covid-19 pandemic period. This global campaign of the pledge has covered cover people and organizations of 70 countries. WBR bestows certificate of Commitment to people and organization for espousing the cause of humanity in Coronavirus pandemic.