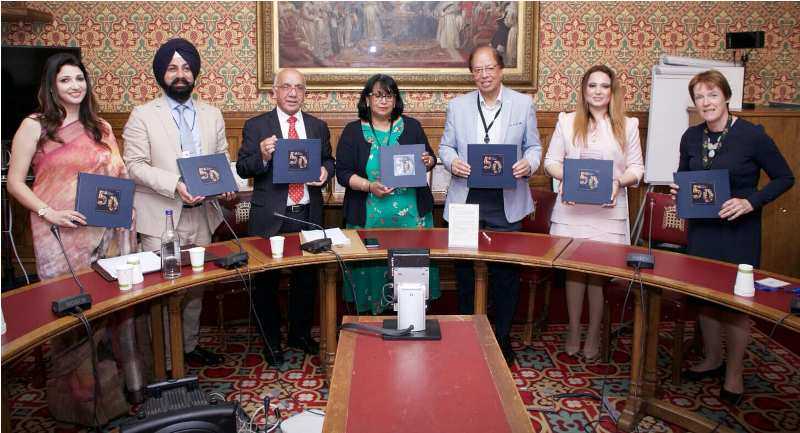 Dr Gunpreet Kahlon Kohli's Coffee Table Book- Edition (II) gets launched at the British Parliament
London : President of Elite Club Dr Gunpreet Kahlon Kohli's latest book-"50 Most Influential Indian Women Worldwide" & "Indian Women of Influence Awards 2019" was launched at the British Parliament with large gentry of socialites, politicians and other dignitaries.
On this occasion, prominent guests graced the function. Prestigious Guests, who were part of the book as Nazuk Shyam Puri, Dr Preeti Jindal, Priya Sawant, Ritisha Niveda, Jasmine Soni, Dr Renu Raj. Special Guests from Harrods London - Sibongumusa Ncube, Anita Ubhi, Ma Xu, Hilda Olo, Mrs O Adesanya, Jaya, Mr Chandrashekhar..
Special thanks were given to Baroness Verma, Baroness McGregor Smith, Member of Parliament Caroline Spelman, Member of Parliament Mr Virender Sharma, Alexandra Darby and Rosemary Lloyd,
All the guests congratulated to awardees including Emilia Pahwa, Nazuk Shyam Puri, Ritisha Niveda, Roop Mouli, Sangita Malik, Rashmi Rai, Pooja Mittal, Preeti Puja, Priya Priyadardhini,.
On being organized such a successful programme, Dr Gunpreet Kahlon Kohli was congratulated by Shri Virendra Sharma (Member of Parliament, England), Dr. Diwakar Sukul (Chairman, World Book of Records, London), Shri Santosh Shukla, Supreme Court Advocate (President, World Book of Records).