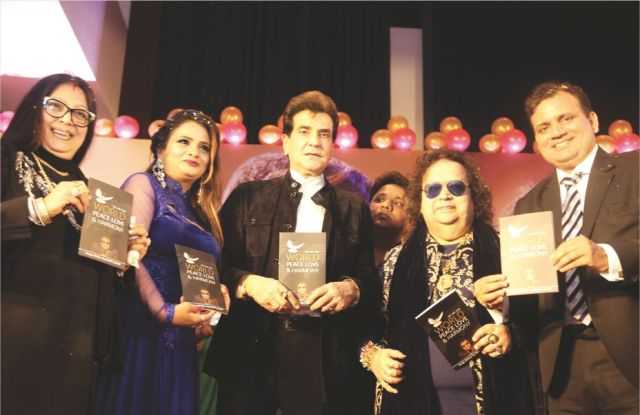 Bollywood Star Jeetendra releases Bappi Lahiri's book World Peace, Love & Harmony
MUMBAI : Internationally renowned and well known Bollywood music composer Bappi Lahiri has penned a book which consists of his songs and poems which he dedicated to "communal amity. The book titled We Are One, World Peace, Love and Harmony has been released in the Mumbai (Maharashtra). The book was released under the gracious presence of Bollywood Stars including Jeetendra, Shatrughan Sinha, Smt. Chitranu Bappi Lahiri, Shri Santosh Shukla (President, World Book of Records & Supreme Court Advocate, India) and Dr. Rajeev Shrivastav.
Shri Bappi Lahiri said that he had been working on the book for the past five years. He mentioned he always wanted to do something for humanity by propagating the message of harmony and love. Shri Bappi Lahiri added that his inspiration has always been Mother Teresa who had showered her blessings on him, yet at the same time, made him realize that while he had succeeded in life, making a name for himself, he has failed to do anything for slum kids. "That's when I made my film Slum Stars and got some kids from the slums to sing for it. Upon releasing the book of Shri Bappi Lahiri, he was congratulated by Shri Virendra Sharma (Member of Parliament, England), Dr. Diwakar Sukul (Chairman, WBR, London).