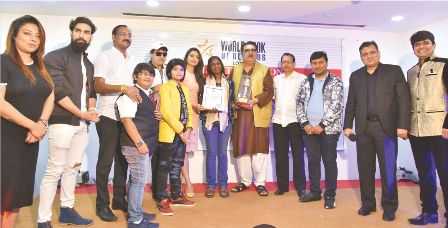 Alma Kids Hyderabad (Telangana) Talent Hunt 2018 Programme Steals the Show
HYDERABAD : One of the leading brands in play school - Alma Kids International Pre-school is known for its quality education and extracurricular activities. Hyderabad unit of Alma Kids has organized Talent Hunt-2018 Show to promote the talent among kids and children of Hyderabad city. In this function more than 100 kids exposed their talents in presence of Bollywood Actor Raza Murad, Shri Santosh Shukla, Supreme Court, Advocate (President, Alma Kids), Ms. Ashima Sharma (Bollywood Actress), Shri C. Subramanium (Ministry of Law), Usman Khan (Bollywood Actor), Shri Dharmendra Deshmukh (Maharashtra), Circle Inspector Laxmi, Ms. Simmi Jagga, Shri Pradeep Khaera (Boxer), Ms. Purva Agrawal (Advocate) and all guests motivated children and distributed prize to winners of the show. On this occasion, Master Avi Sharma, Master Utkarsh Mathil Jain, Shri Shiv Prasad Cheruvu and other were present. On this occasion, Shri Manish Kumar told that children have extra-ordinary talent and kids need a break from all the hustle and bustle of everyday life. It is essential that they recover from the burnout they experience from routine that may be building stress upon them. We provided a great opportunity to keep kids occupied and happy with fun, creative and exciting activities.
The programme was organized by Shri Manish Kumar (Director, Alma Kids Hyderabad Unit) with dedication. Alma Kids management and World Book of Records - London congratulated Shri Manish Kumar and his staff for successful organizing Talent Hunt Show.